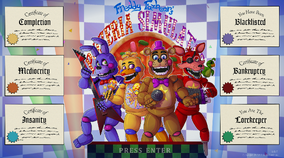 Certificates are small cosmetics located in the title screen the player can obtain by completing certain objectives inside the game, completing saturday being the most common one for all of the endings.
There are 6 certificates the player can obtain throughout the game, this, alongside achievements, increasing the total amount of collectibles to 10.
Certificate of Completion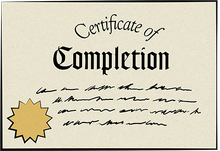 This certificate is acquired by completing the "Good" Ending. The narrator will award you the certificate during the closing cutscene of the ending. To obtain this achievement, you must complete saturday with all four salvageable animatronics inside your pizzeria.
You cannot earn this certificate if the player fails a salvage (an animatronic jumpscares the player mid-salvage).
Certificate of Mediocrity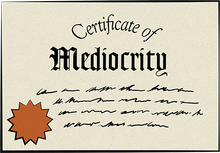 This certificate is awarded for completing the "Mediocre" Ending. As with the 4 other ending-related certificates, it is awarded to the player during the ending cutscene. To obtain this certificate, you must complete saturday without spending a single dollar on your pizzeria, and thereby, have a Faz-Rating Score of 0.
Certificate of Being Blacklisted (You Have Been Blacklisted)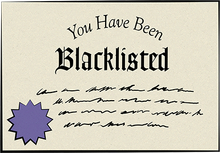 This certificate is awarded to the player for getting the blacklisted ending. To obtain this certificate, you must complete saturday with a Liability Risk of 50.
The narrator begins to lecture to the player saying that they are too dangerous even for Fazbear Entertainment's standards, and have been blacklisted from ever working with the company again.
Certificate of Bankruptcy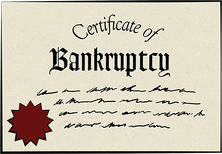 This certificate is awarded to the player if they go bankrupt (zero or negative amount of dollars) at any point during the game. The player is then fired, the game forcibly crashes and the game's savefile is seemingly deleted except for the Bankruptcy Certificate, which will be now added to the menu screen.
Lorekeeper Certificate (You Are The Lorekeeper)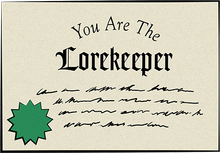 To get this certificate you have to find the 3 bonus lore secrets in Fruity Maze, Midnight Motorist and Security Puppet's Playtest mode. You will be given the Lorekeeper Certificate without any specific cutscenes.
If the player is to get the Completion Ending with the Lorekeeper Certificate unlocked, the player will be shown a graveyard with tombstones after the game ends. These tombstones are theorized to be the graves of the first children murdered by William Afton.
Certificate of Insanity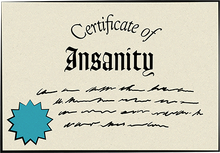 This certificate is obtained after unlocking the Insanity Ending, obtained after completing a set amount of steps surrounding the Egg Baby item and the office's monitor (See Endings.)
Upon completing the ending, the narrator will tell the player that they've "Found something they shouldn't" and hands them this certificate so that nobody believes what the player has learnt.
Community content is available under
CC-BY-SA
unless otherwise noted.