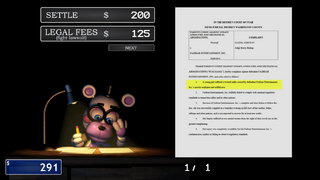 Lawsuits are also main game mechanics. It occurs when if the player bought too many objects and characters with a very high rating of liability risk. If the player does not have enough money to pay the lawsuit and go into debt, the player will get the Bankruptcy ending and crash the game, but the player can still settle or pay some lawyers to defend your restaurant if the player has enough money.
Lawsuits happen based on a X out of 10 random chance, X being the risk level in the pizzeria; having a risk of 1 would allow for a 1/10 lawsuit chance and so on. Having more than 10 risk points will add a second lawsuit chance using the numbers over 10, and having more than 20 points will add a third lawsuit chance using the numbers over 20 and so on. If the player finishes Saturday with a liability risk of 50 or higher, the player will get the Blacklisted ending.
Lawsuit anamatronics are:
Lefty(9)
Nedd Bear(1)
Items
Ballpit Tower:3
Ladder Tower:4
Riding Rockets:1
Deluxe Ball Pit:4
Gravity Vortex.:5
Animatronics
Gallery
Trivia
Lefty has the most liability risk, making it available for lawsuits

This can be prevented if the 'Health and Safety' stats is enough to lower risks, or probably removing Lefty from the stage.

If you purchase safety strap upgrades, the liability risk will be reduced by 1, this is useful if the liability risk of an item is 1.
The only animatronic band that ALL the animatronics can cause a lawsuit is Rockstars Assemble.
Sounds
| | |
| --- | --- |
| Description | Audio |
| The song "Legal Woes" that plays during the lawsuit scene with Helpy. | |
| The sound of going bankrupt. | |
Community content is available under
CC-BY-SA
unless otherwise noted.